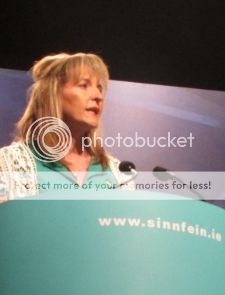 Sinn Féin MEP Martina Anderson has welcomed a European Parliament resolution supporting the peace process and urging further progress. Speaking after the resolution was passed at the European Parliament's November plenary session, Ms Anderson said: 'The passing of this resolution is yet another welcome indication of European support for our peace and political processes.
'It urges all parties to the process to work constructively towards a lasting resolution of the conflict and the full implementation of the Good Friday Agreement and subsequent agreements.
'For many years the EU has been a source of support for the Irish peace process whether through the Barosso Taskforce, Peace funding, or the support from Commissioners Wulf-Mathies, Hubner and now Cretu.
'This resolution is the result of meaningful cooperation between MEPs from six political groups in the European Parliament.
'I also welcome the visit of the unionist leaders to the European Parliament and take it as a sign of their willingness to engage constructively.
'The spirit of constructive dialogue involved in drafting and agreeing this resolution needs to be reflected at home by all parties in the talks and by the British and Irish governments.'